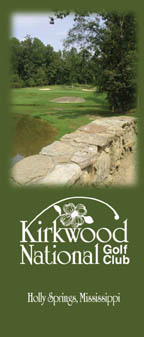 KIRKWOOD NATIONAL GOLF CLUB
Owners of the Kirkwood National Golf Club needed marketing materials to identify the course from competing golf courses being constructed in the Memphis suburban areas.
A strategy was developed to build on the strength the course projected in its use of natural features of the existing land.
The theme of "Experience what nature gave us" is used throughout the copy which describes playing on a course where dramatic changes in elevation and seeing abundant wildlife makes a round of golf at Kirkwood National a unique experience.